WC67K NC Hydraulic press brake bending machine with E21, Ball screw, guide linear
Video link:
Main Features:
1,Totally EU streamlined design,Mono block by welding robots & aparatus and stress relief process by Annealing treatment.
2.Hydraulic synchronised positive stop design,and by Etsun NC programmable controller assuring accurate repeatability &ease of use.
3.Integrated hydraulic system(Bosch-Rexroth form Germany)allowing rapid approach switching automatically to slow bend.
4.Inverter with E21 NC System operated back gauge with quality support fingers also with vertical adjustment
5.Inch, single mode being designed for the machine and reversing and maintain time can be controlled by the time relays.
6.Safe fence and the electric inter locker have been designed for the machine to ensure the operation safety.
Standard Equipment:
Estun E21NC control System
Powered Depth Y-axis&Back gaugeX-axis
DELTA Inverter controlled back gauge
HIWIN Ball screws & Polished rod with 0,05mm accuracy.
Plate Support Arms
Germany Bosch-Rexroth Hydraulic
Germany EMB Tubing connector
Germany Siemens Main Motor
Telemecanique/Schneider Electrics
Hydraulic &Electrical overload protection
Top and Bottom Tooling(86°,R0.6mm)
Safety Standards(2006/42/EC):
Safety Equipment:
1.EN 12622:2009 A1:2013          2.EN ISO 12100:2010      3.EN 60204-1:2006 A1:2009
Front finger Protection(Safety light curtain)
South Korea Kacon Foot Switch(Level 4 of safety)
Back metal safe fence with CE standards
Safety relay with Monitor the pedal switch and safety protection
Estun E21s NC Control system:
Monochrome LCD Box Panel.
Integral factor programmable freely
Automatic positioning control● Spindle allowance offset
Internal time relay● Stock counter
Backgauge position display, resolution in 0.05mm.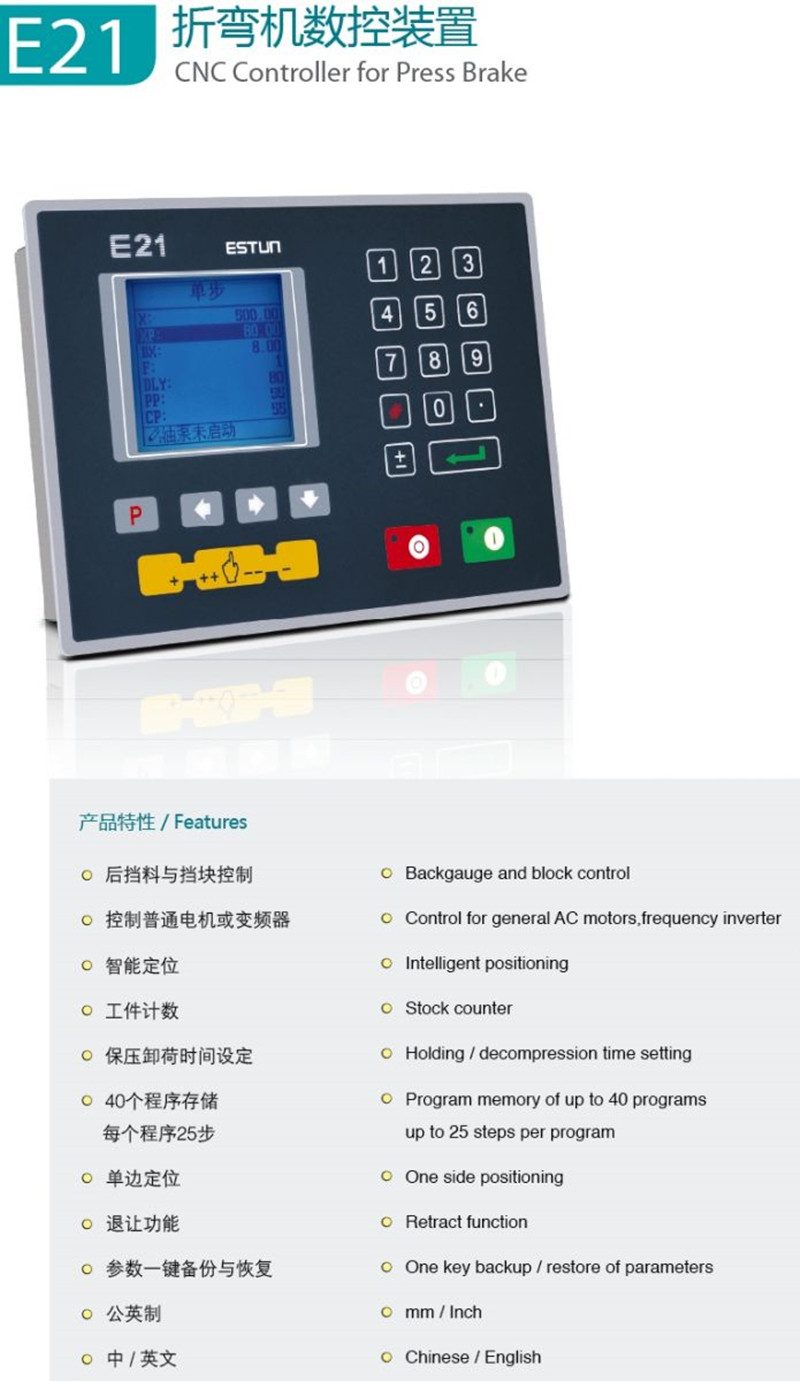 Due to our batch manufacturing, we will have a lower price with best quality machines.
When a breakdown occurs, our technicals are on call for both online & onsite correction.
All machines are inspected by our quality control department before shipped out.
Critical components & worn spare parts are offered to avoid unplanned stops.
We will provide you professional expert suggestions for your required machine.
All of the machine ordered by our customer will be delivered within 30 days.
Send us email or fill in below contact form. We will reply your message as soon as possible.