W12 hydraulic 4 rolls symmetrical plate bending roller machine price
1.The Feature of Hydraulic Plate Rolling machine
1. The machine widely used in petroleum, chemical industry, cement, boiler, shipbuilding, aviation, water conservancy, power transmission towers and other machinery and equipment. Its working principle is rotating bending deformation. For the upper roller can be moved no matter up and down, but also horizontally, so no need additional press or equipment, can realize pre-bending, bending, as well as correction of the workpiece.
The whole structure of Hydraulic Plate rolling machine :
1.Totally European design,streamlined looking,frames of our machines are fabricated, welded steel (ST-52). Roll shafts, materials and bearings used in production are European quality. Also the torque limit of the machines is very high. NC playback and NC graphic control systems are available as optional accessory.
2.The main structure of the equipment includes upper roller, lower roller and horizontal movement mechanism, supporting mechanism,main drive mechanism,downturn system, left and right machine frame, chassis and balance mechanism, hydraulic and electrical control systems.
3.The model MH has both the upper and the lower roll powered with hydraulic motor and planetary gear box.
3.The Feature of Hydraulic Plate Rolling machine :
High precision pre-bending, freely setup the width of plate. Upper roller presses the plate end for pre-bending.
Upper roller likes drum with collaboration of carrier roller permit continual bending of any thickness of plate.
Safe work, fixed two down roller, upper roller does horizontal and vertical movement, and the plate don't move during upper roller moving.
Unitary structure, convenient to move the whole machine as machine has a hardy under pan. No need to anchor bolt.
Different use has different control way, like top numerical control and below numerical control.
6.Through exclusive technology, Krrass can develop cones as easily as competitive machines can develop cylinders. And it eliminates scarring on the surface of shell or roll and also eliminates, in most cases, the need for grinding the lamination (bullnosing) on the minor diameter edge.
PLC Touch display NC control system:
Special bending aircraft, numerical control.
HMI (human machine interface), intelligent operation.
Self-compensating, single operate, high efficiency, safe and convenient.
Many models for choice, economic numerical control model, TC computerized numerical control.
5.Major parts of the manufacturing process :
Working rollers: cast steel ingot (chemical composition analysis): check performance-forging roughcast — forging annealing-UT flaw — roughing (mechanical tests)-heat treatment (hardening and tempering) — UT flaw — semi finishing — finishing — MT.
Large forgings: cylinder body, gear, gear shaft forging roughcast — surface inspection – roughing — UT flaw — UT flaw detector heat treatment — finishing semi—finishing — MT.
Welding structure: racks, chassis, wheel box
Plate into the factory (chemical composition analysis, mechanical properties test) — pretreatment — for sheet metal cutting-welding-seam UT or RT flaw — annealing treatment — roughing-finishing— vibration destressing—hot blasting —finishing
6.Configuration of Hydraulic Plate Rolling machine is follows:
Main power:Siemens Electrical made in Germany
Main electronic elements: Schneider made in France;
Axletree:Double-row self-aligning bearingfrom Germany
Main motor: Siemens Electrical made in Germany
Programmable logic controller PLC:OMRON products from Japan
Hydraulic system: Bosch – Rexroth made inGermany
Gear pump: made in China TaiWan ;
Work Roller:Material of work roller with 42CrMo Alloy steel.
Digital display system:Touch Screen for Delta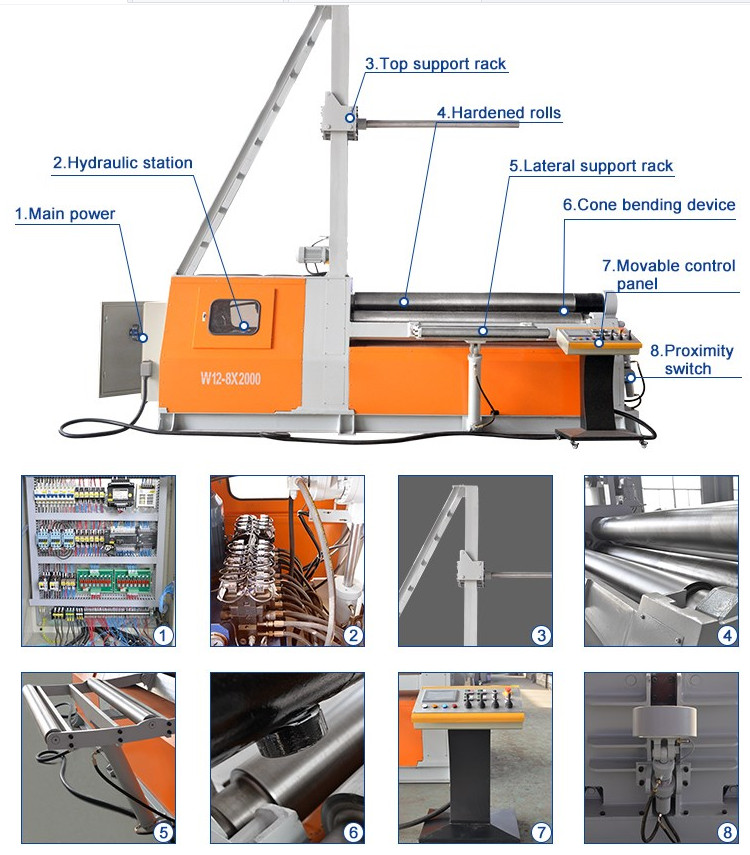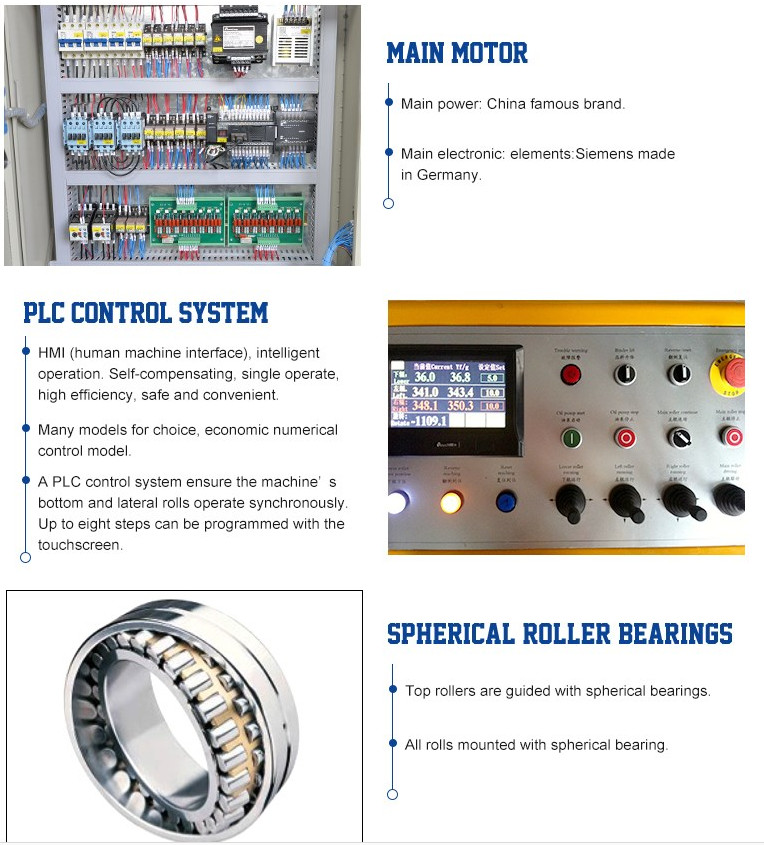 Due to our batch manufacturing, we will have a lower price with best quality machines.
When a breakdown occurs, our technicals are on call for both online & onsite correction.
All machines are inspected by our quality control department before shipped out.
Critical components & worn spare parts are offered to avoid unplanned stops.
We will provide you professional expert suggestions for your required machine.
All of the machine ordered by our customer will be delivered within 30 days.
Send us email or fill in below contact form. We will reply your message as soon as possible.