Sheet Metal Hydraulic Ironworker ,Iron worker machine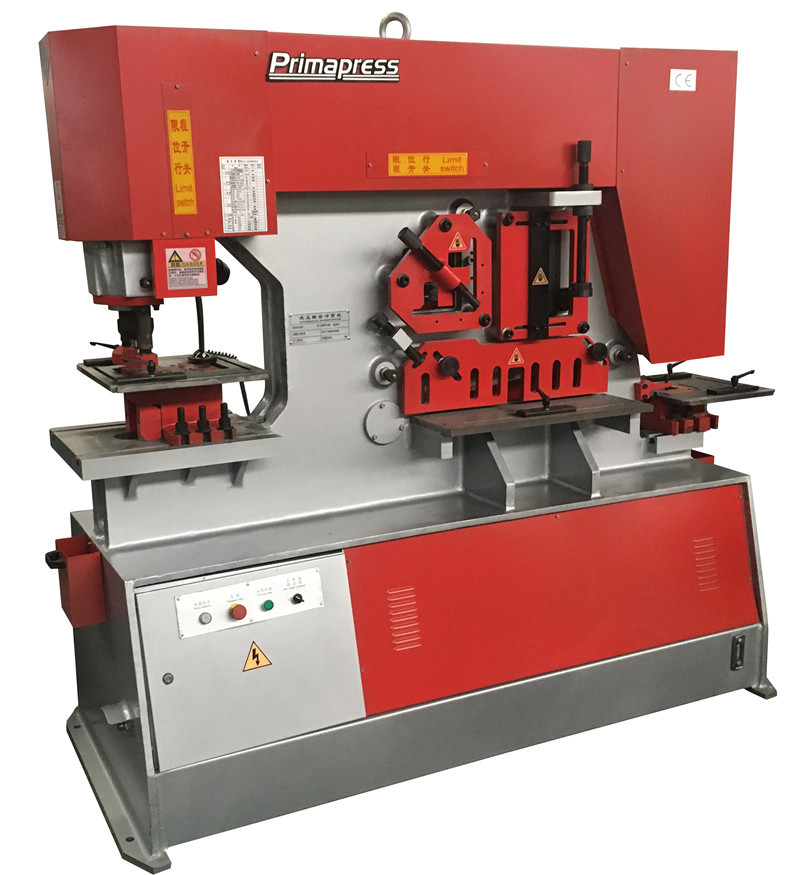 1.Introduction to the structure and properties:
Q35Y Series hydraulic combined punching&shearing machine can cut and punch all kinds of materials such as plate, square bar, angle, round bar, channel and so on.Prima hydraulic ironworkers have been designed and built to the highest quality standards in the industry. This profitable machine will serve any grueling fabrication shop for decades to come. This machine is typically in stock for quick deliveries.
2.Equipment's working environment:
1 Power supply:3Ph AC 220V/380/415 ± 10%, 50/60 HZ, optional to site.   2 ambient temperature:-10 ℃ ~ 45 ℃
3.Main functions:
1)Punching: Full range of universal punches and dies are available.unique style allows for large angle iron punching and large channel punching.Large viewing window on stripper swing away design for ease of operation.large two piece gauging table with rulers and stop as standard fittings.Quick change coupling nut and sleeve for rapid replacement of change.
2)Shearing: Round and square bar shear has multiple holes for a variety of sizes. Adjustable hold down device for round/square bar,channel/beam cutting. Large strong guarding for max safety. The angle shear has the ability to cut angle at 45°both top and bottom leg. This gives the operator the ability to make a picture frame corner for perfect welds.Diamond shaped blade for quality cuts that is minimal material lost and deformity. Easily adjustable hold-down device for accurate plate cutting.Large 15″squaring arm with inlaid scale.Special anti-distorted blade for quality cutting.Lower blade has four usable edges.There is screw allow for gap adjust no shim needed.
3)Notching: Unique design allows for cutting of angle and flat bar. Electrical interlock safety guard and three gauging stops for precise positioning.The notching section of this hydraulic ironworker is perfect for notching out metal plate, angle iron and much more. The notching station also has an over sized table with material stops. This section of the machine can also be outfitted with the optional vee notcher.
4)Bending: Also bend the plate below 500mm. All the components of Machine are of the highest quality in their safety, function.
4.Main Components list:
1, Main motor: Siemens          2, Hydraulic valves and pump: Huader, Beijing, China best. Bosch optional.
2, Electrics:SCHNEIDER         4, Sealing:NOK, Japan          5,Tools:All heating treatment
5.Technical specifications:
Model
Q35Y-16
Q35Y-20
Q35Y-25
Q35Y-30
Q35Y-40
Q35Y-50
Ramming strength (ton)
65
90
120
160
200
250
May cut the biggest thickness of slab
16(millimeter)
20
25
30
35
50
Sheet intensity (Newton/millimeter 2)
≤450
≤450
≤450
≤450
≤450
≤450
A traveling schedule cuts the board size (thick * wide) (millimeter)
16*250
8*400
20*330
10*480
25*330
16*600
30*330
20*600
35×400 25×700
40*40030*750
Slide stroke
80
80
80
80
80
80
Traveling schedule number of times (/minute)
12
12
10
10
10
10
Throat opening depth
300(millimeter)
355
400
600
600
600
Punch holes thickness
16(millimeter)
20
25
26
35
40
Biggest punch holes diameter (millimeter)
25
30
35
38
40
40
Main electrical machinery power (kilowatt)
55
7.5
11
11
15
22
External dimensions (long * wide * high) millimeter
1750*830*2000
1930*900*2000
2200*1000*2100
2900*1200*2600
2970*1240*2650
3200*1440*2750
Machine weight (kg)
2000
3100
4600
7200
9500
12800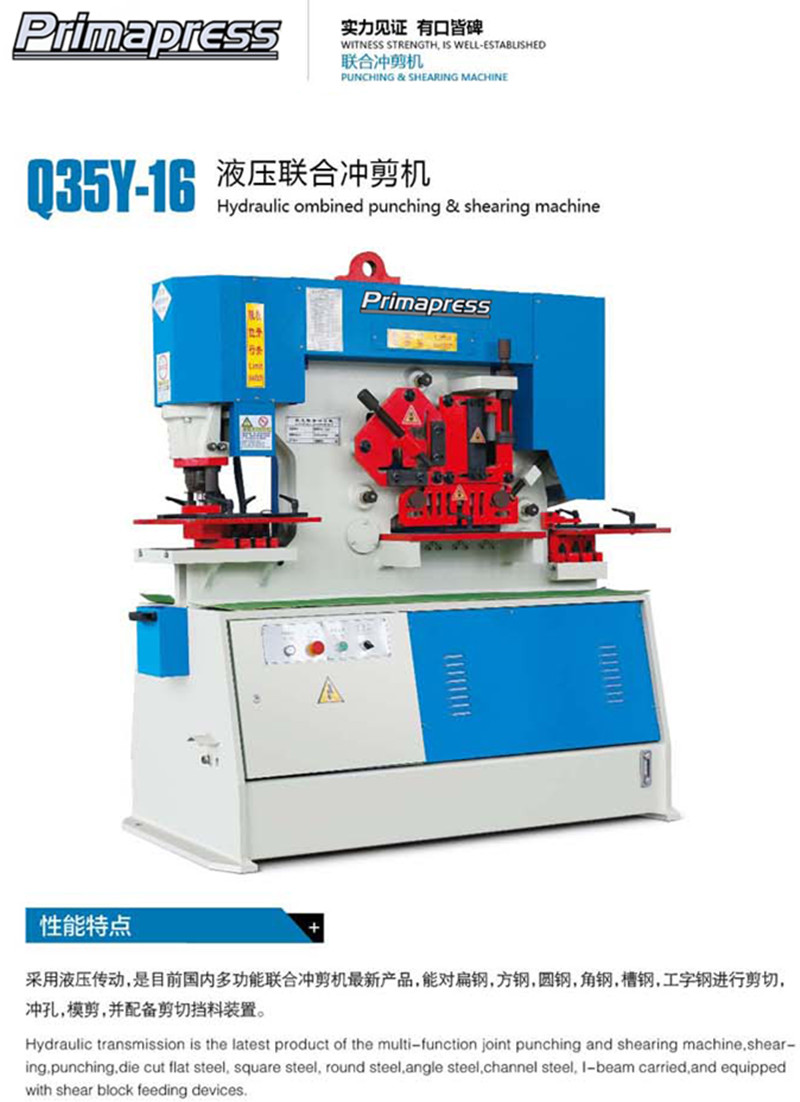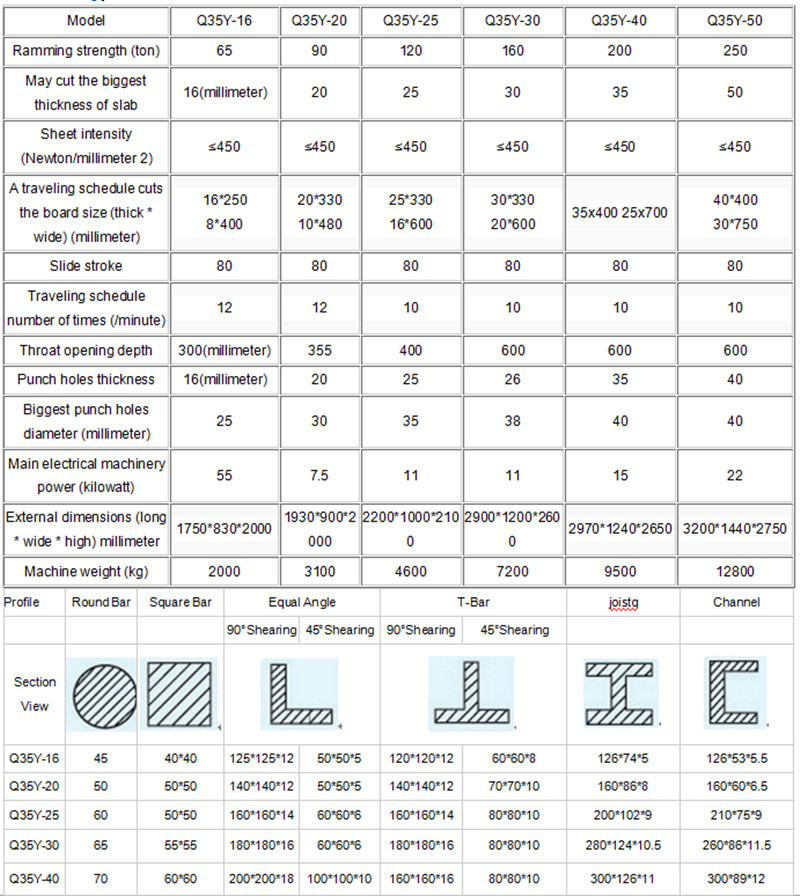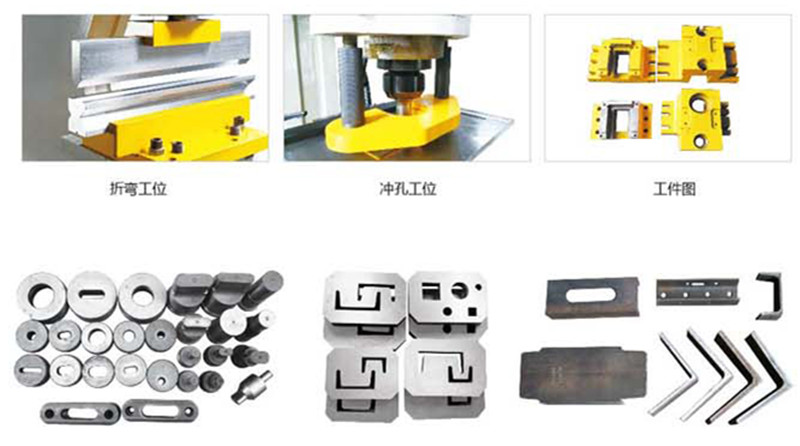 Due to our batch manufacturing, we will have a lower price with best quality machines.
When a breakdown occurs, our technicals are on call for both online & onsite correction.
All machines are inspected by our quality control department before shipped out.
Critical components & worn spare parts are offered to avoid unplanned stops.
We will provide you professional expert suggestions for your required machine.
All of the machine ordered by our customer will be delivered within 30 days.
Send us email or fill in below contact form. We will reply your message as soon as possible.