Hvac duct forming line v , duct making line 5
Video link:
Feature of Duct manufacture auto-line V: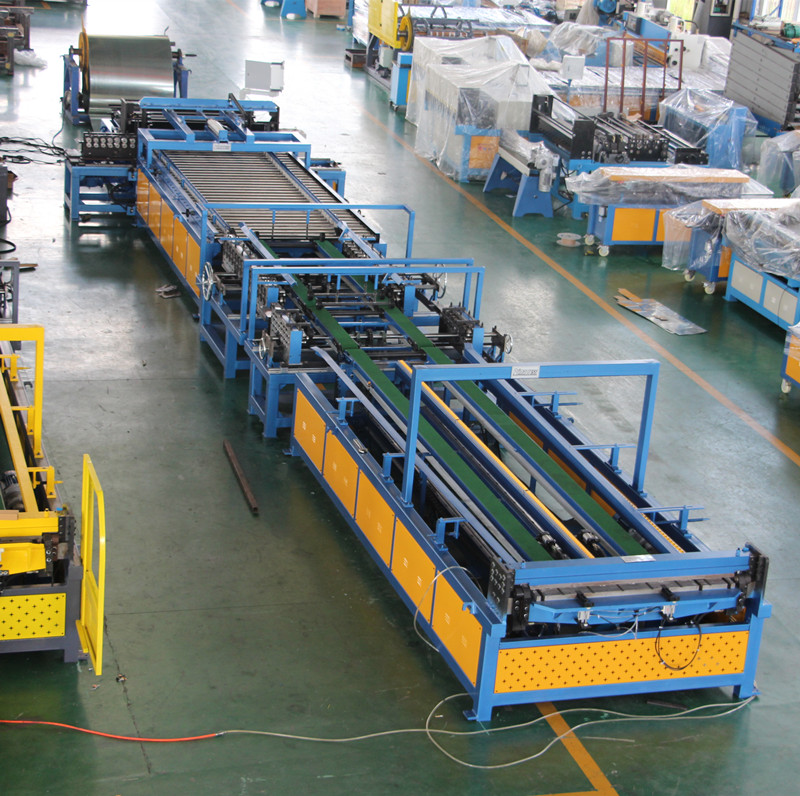 1)Features:
√ Modular design allows adding a section at a time
√ Two sets of Twin-motor driven dual-decoilings, selectable coils stand by, maximum capacity of 5-ton per station (optional: up to 10-ton per station)
√ Straightening/flattening -Air pressure controlled six rolls straightener
√ Air pressure controlled ring type beading rolls with five beading rings-optional by remove beading rings
√ Notching & punching square
√ Patented Automotion pittsburgh lock former, forms pittsburgh lock and right angle,roll forming and shearing simultaneously,shorten working time, a perfect match to duct auto line
√ Optimizes floor space by inline position of machines,guarantees high efficiency
√ Accurate PLC control unit, Preset available profiles and folding style, notching size,punching size,cutting dimension on touchscreeneasy operate
2)Capabilities:
√  Alternative width for 4(1300mm) or 5(1550) material
√  Sheet capacity: 18-27ga (0.4-1.2mm)
√  Shearing tolerance of ±0.5mm
√  Hydraulic folding diagonal tolerance of ±0.5mm
√  0-54FPM (0-18m/min) feeding speed,fast acting back gauge
3)Technical parameter:
| | | | | | |
| --- | --- | --- | --- | --- | --- |
| Model No. | Max Coil Width | Thickness Range |  Speed | Shearing Tolerance | Diagonal Tolerance |
| PM5-1.2×1300 |  1300mm |  0.4-1.2mm |  0-18m/min |  ±0.5mm |  ±0.5mm |
| PM5-1.2×1600 |  1600mm |   0.4-1.2mm |   0-18m/min |   ±0.5mm |  ±0.5mm |
Stations: coil-straightening-beading-punching square-notching-shearing-folding-automotion pittsburgh lock forming-coil conveyer (optional)-duplex TDF flange forming -hydraulic folding.
4)BASIC EQUIPMENTS:
Amotordriven speed adjustable decoiler (Optional 8 or 10 tons of hydraulic decoiler)
Optional8 tons or 10 tons of hydraulic material frame
Amaterial supporting frame
Amain machine
Amanipulator for materil clutch,transferring and positing platform
Amovable high-speed Pittsburgh lock forming machine
Aduplex angle steel flange forming machine
Aduplex TDF flange forming machine
Aservo motor driven material feeding and folding platform
Ahydraulic folding machine
ACNC System and a set of production software
Main import Configuration:
MITSUBISHI HMI Display And PLC
MITSUBISHI Frequency Converter
Japan NEMICON Inverter
Taiwan Hydromax Pump
Taiwan High TemperatureResistant Tubing
4)Note:
1. Cut to length or cut blank for plasma cutting machine
2.1 Punching and notching for "C" "S" cleat duct. It can cut different types of notches such as "L", "U" and "口". It can also cut blank for "C" and "S" cleat flange machine.
2.2 Manufacture TDF flange duct automatically.
2.3 Cutting blank for angle iron flange or "Z" shape flange machine.Used with a vertical seaming machine to get a full wrap duct.
3. Cutting blank for TTF/LT mate flange. Used with a vertical seaming machineand mate flange machine to get a full wrap duct.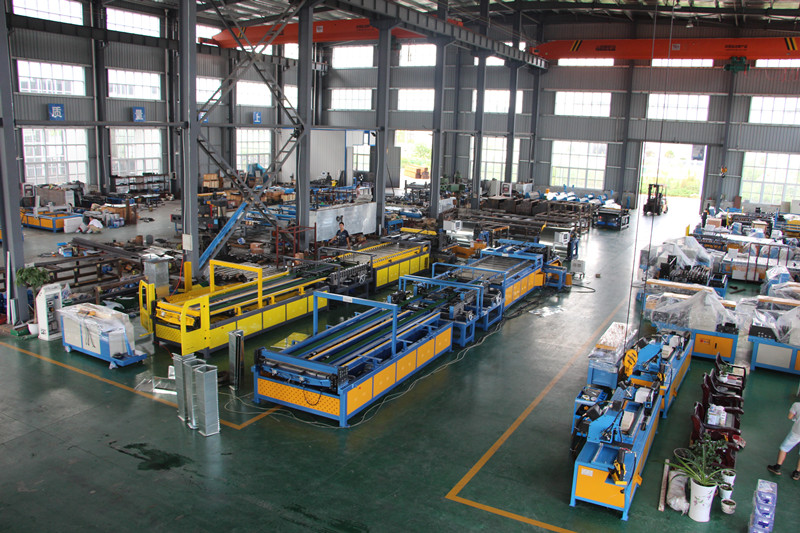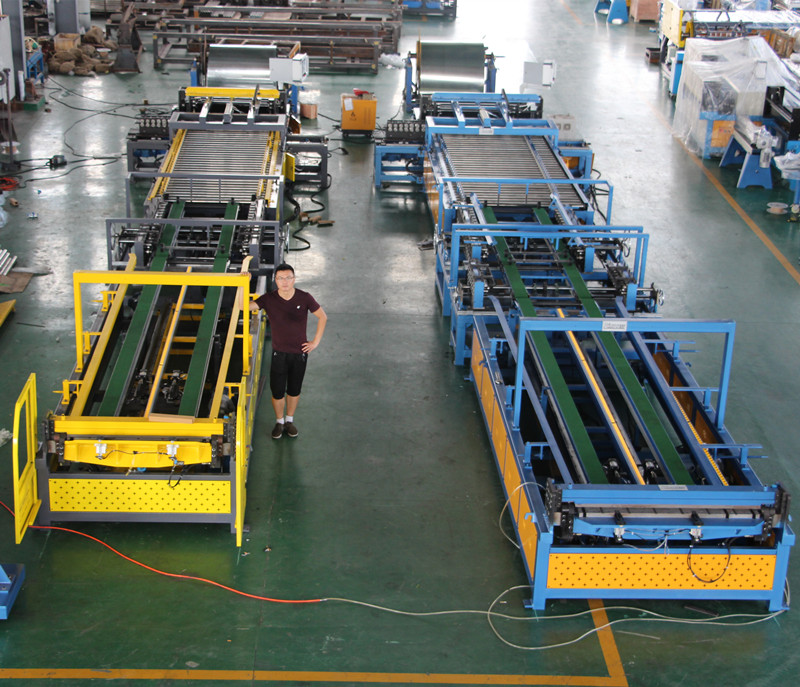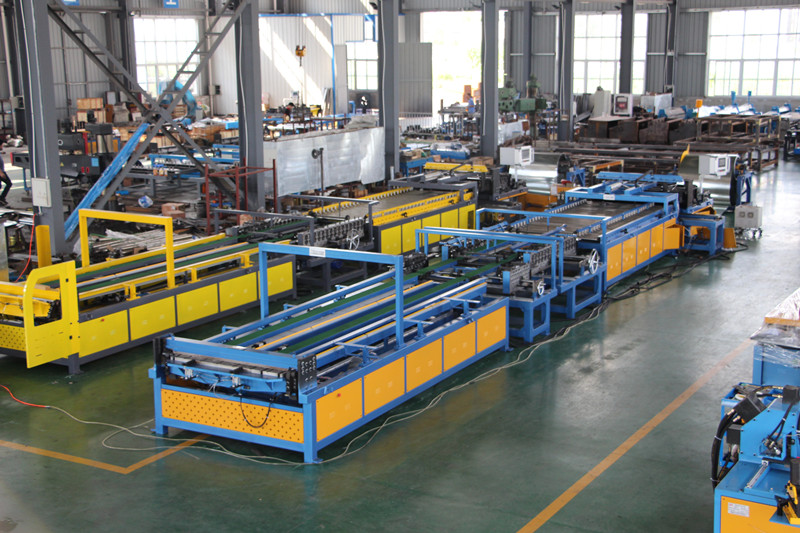 Due to our batch manufacturing, we will have a lower price with best quality machines.
When a breakdown occurs, our technicals are on call for both online & onsite correction.
All machines are inspected by our quality control department before shipped out.
Critical components & worn spare parts are offered to avoid unplanned stops.
We will provide you professional expert suggestions for your required machine.
All of the machine ordered by our customer will be delivered within 30 days.
Send us email or fill in below contact form. We will reply your message as soon as possible.