Gantry type cnc cutting machine with under water cutting plasma and flame cutting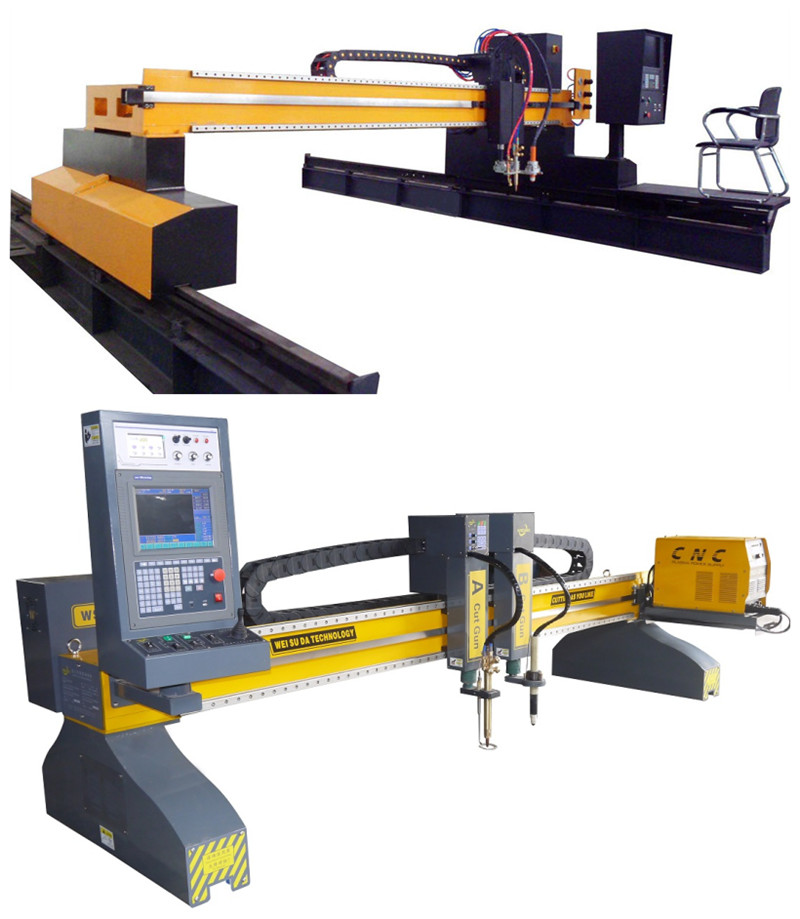 1.Product overview:  1. Easy and quick operation
Pioneering field adjustable cutting torch height control, over the cutting torch raised control body design has all the necessary movement and control keys, to mobile operators in the cutting torch counterpoint is very convenient. Humanized design, more efficient operation.
2. Professional design, beautiful and atmosphere, more durable
All keys, all adopt the top design of crystal buttons, relative to other enterprises film button, button always ensure that clear bright, never wear. At the same time, the host body all adopt the technique of the lacquer that bake, colour is beautiful and durable.
3. Simple and straightforward way of graphics programming
Complex graphics CAD design is used in the office, the U disk into the cutting machine, simple graphics can also be on the cutting machine using a very simple and straightforward way programming input directly, such as "straight line, the fourth quadrant, X40, Y30". This way of programming, ordinary operators are very easy to learn.
4. A fool type operating mode
Screen below a reminder of various operating methods, the operator can do not need training, does not need to look at the instructions.
5. A fool type maintenance way
Adopting modular design, circuit and have various working status indicator light on each module, fault phenomenon be clear at a glance. The machine maintenance only according to the indicating lamp replacement function module, maintenance is very convenient and quick.
6. Simple bulk cutting function
Cutting machine can implement automatic sorting of graphics. Operators only need to input, orientation of cutting quantity and mass continuous automatic cutting can be realized.
7. Higher reliability design
BAIDE r&d staff is a professor at the university of the geological, tutors and graduate students, etc., engaged in field monitoring system, monitoring and control system research of the sea, too many item of national 863, provincial science and technology project and the corresponding awards, has the quite rich experience on the reliability design. Can be configured for plasma cutting any plasma power source at home and abroad, without interference by plasma.
8. Free to provide a full range of operation and maintenance of CNC cutting machine video, 24 hours a day good helper, use more rest assured.
2.Technical sheets:
Cross Beam Length(X axis)
2500mm;
Longitudinal Rail Length(Y axis)
4000mm, heavy rail
(can be lengthened according to user's demand)
Effective Cutting Width (X axis)
2000mm
Effective Cutting Length (Y axis)
3000mm
Cutting torch station numbers
1 or more sets by customer demand
Cutting Mode
Plasma
CNC system
Starfire
Driving motor
Stepper motor
Drive Mode
Bilateral Driver
Drive Method
Rack and pinion drive for X and Y axes
Plasma Cutting Thickness
1-35mm (according to the specification of plasma power source)

The rest should be cut by the fire.

Nesting Software
STARCAM
Automatic Torch Height Controller
Arc voltage height controller for plasma cutting
Workcondition:
Circumstance temperature
-10℃~ 40℃
Relative humidity
≤95% without condensation
Surroundings
Aeration without shock
Power supply frequency
50/60Hz
Input power for CNC system controller
AC220-230V 1PH, optional to site
Input power for plasma power source
AC380V 3PH, optional to site
Plasma cutting gas type
Refer to plasma operation manual
Plasma shield gas type
Refer to plasma operation manual
Plasma gas source
Clean and dry, flow rate & pressure is depend

on plasma manual

Flame cutting gas (O2 C3H8)
oxygen and propane
Pressure of oxygen
0.8-1.0MPa
Pure degree of oxygen
≥99.6%
Pressure of  cutting gas
0.08-0.1MPa

Due to our batch manufacturing, we will have a lower price with best quality machines.
When a breakdown occurs, our technicals are on call for both online & onsite correction.
All machines are inspected by our quality control department before shipped out.
Critical components & worn spare parts are offered to avoid unplanned stops.
We will provide you professional expert suggestions for your required machine.
All of the machine ordered by our customer will be delivered within 30 days.
Send us email or fill in below contact form. We will reply your message as soon as possible.